Our biology staff recently refurbished our school pond which had  been lying empty of  both water and life for many years.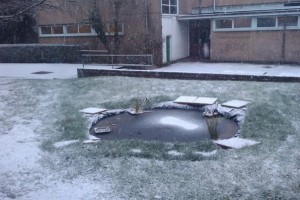 About 2 months ago a pair of handsome ducks decided to take up residence at the pond. As you can imagine this was rather an exciting event both for the students and staff at the school. The staffroom became a staff  bird hide and the benches near the pond a focal point for students. Many a parentally prepared sandwich ended in a ducks stomach. Everyone started thinking of names for the ducks and insisted their name was the correct one – I spotted a chance for the VLE to offer a bit of pupil voice and democracy.
I set up a "Duck Group" on our VLE Rickypedia (a moodle course named duck group) with a forum to suggest names, a forum to share duck trivia and advice and a database to share photos. I posted a news story on the front page of the VLE to encourage people to nominate names for ducks and ask for any volunteers to help. Students immediately started nominating names, a few gave suggestions (with links and references) on how to care for ducks and what to feed them (some say not at all and some say sparingly and not bread). One volunteer, a talented Year 7 student called Owen, came forward and I gave him control of the duck group.
Before long students had nominated around 20 names for a vote and Owen had totally revamped the duck group adding great graphics, a spot the ducks forum to report news of their locations and a duck survey using google forms. At the end of term we closed the nominations and Owen set up a poll (I sent him a link to a YouTube video showing how to set up a poll and he did the rest). The poll opened and a few weeks and 150 votes later we closed the poll.
I must say I was a little disappointed by the choice of name but the students had spoken and the result was even more surprising than the general election – the winning pair of names was "Green Head" and "The Other One" followed by Donald and Daisy and Gavin and Stacey!
I shall leave you with a recent photo of the ducks and the wonderful graphic created by Owen to celebrate the winners.